There is a reason city folk love to go on holiday far away from the hustle and bustle. It lies in the ability to leave the stresses of the concrete jungle behind, in exchange for a quiet, lush green sanctuary. Then resting and recharging, before returning, ready to seize whatever life has to offer. With an exclusive landed home at Horizon Hills serving as your luxury hideaway, you can make this your reality.
Set on high ground, replete with gentle, rolling hills, Horizon Hills lives up to its name. The premium, freehold multi-award-winning matured township is situated in the reputable Iskandar district of Johor Bahru, Malaysia.
Owning an accessible holiday home at Horizon Hills means you can flit to your refuge in a short drive across the highway, via the Malaysia–Singapore Second Link Highway or Johor–Singapore Causeway.
Horizon Hills is fully connected and accessible via the major highways (Coastal Highway, Malaysia-Tuas Second Link Highway, and Perling-Pasir Gudang Highway North-South Highway).
As a resident of the most sought-after development across the Causeway, take pleasure and relish in the security and sense of space as you stroll through the low-density neighbourhood. Come sunrise and sunset, be treated to spectacular, golden views wherever land meets sky.
Developers' Background On Horizon Hills
15 years have been put into the development of the project. Built to be the perfect embodiment of luxury meets sustainability, Horizon Hills is set a world apart from its competition.
The coveted mixed-development has a total of 6,000 units and sprawls across 1,200 acres of land. To date, the joint venture between two of Malaysia's renowned property developers, Gamuda Land and UEM Sunrise, has delivered 4,000 homes.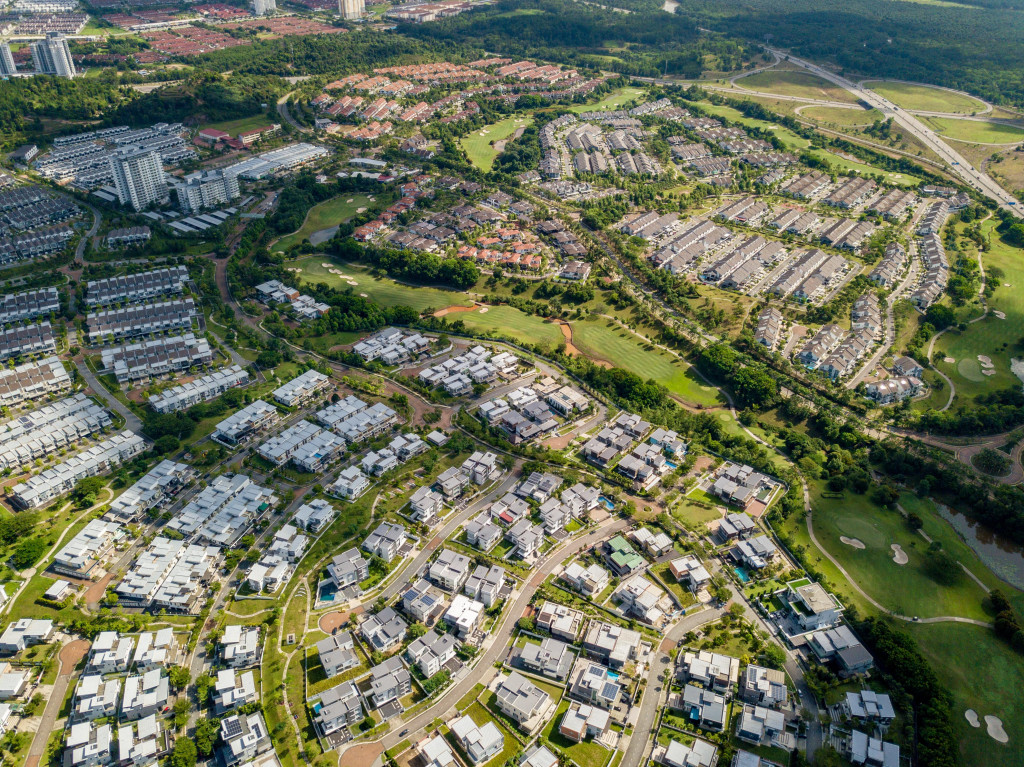 An Upscale Mixed-Development, Set A Class Apart
Contemporary Design Concepts And Facilities
Horizon Hills remains an unbeatable prospect with its location, amenities and facilities, environment, and product quality. Many conveniences and amenities are available within and surrounding the township. These include:
Shopping malls (e.g. AEON Bukit Indah, Mall of Medini, and Paradigm Mall)
Entertainment and lifestyle options (e.g. Legoland and Puteri Harbour)
Education facilities (e.g. EduCity, a multi-campus student hub that houses
Newcastle University Medicine Malaysia, University of Reading Malaysia, University of Southampton Malaysia, Marlborough College Malaysia, Raffles American School)
Medical facilities (e.g. Columbia Asia Hospital – Iskandar Puteri, Gleneagles Hospital Medini Johor, and Kensington Green Specialist Centre)
Restaurants and eateries
The elite residential enclave has 11 impressive precincts, each with its own unique identity and characteristics. For occupancy, each home requires only minimal renovation upon purchase. The upscale township offers fully gated and meticulously planned, quality homes with an exclusive membership to the Horizon Hills Golf & Country Club – the first of its kind.
At the Horizon Hills Golf & Country Club, residents have access to the private, 18-hole par 72 designer golf course, starring classical bunkering with sweeping sand faces, unique island greens and island fairways with natural green buffers. Thanks to its standout features, the course bagged the 'Best Maintained Golf Course' and 'Best Greens' by ParGolf People's Choice Awards 2020.
Residents are not limited to playing golf at the country club. They can swim in the Olympic-sized swimming pool or let their children splash about in the kids' pool. For those who prefer to work out on land, they can use the gym or fitness studio. Alternatively, get competitive with friends over a game of tennis, badminton or table tennis at the various courts and halls.
Horizon Mall: Hitting A New Milestone And Catalyst Development At Horizon Hills
Aside from the existing contemporary design concepts and facilities, Horizon Hills is proud to introduce a new catalyst development – Horizon Mall.
Set to be an exciting and innovative space, Horizon Mall will have 150,000 sq.ft of shopping and dining options and a playpark.
Adhering to the theme of sustainable luxury, Horizon Mall has a biophilic, energy-efficient design. Constructed according to the architectural principles of openness and lightness, natural light streams into and fresh air gently circulates throughout the building. Indoor plants complete the interior.
Horizon Mall will be located in the heart of Horizon Hills, giving residents easy access to a vast array of F&B and retail concepts. The mall is within walking distance of Horizon Golf & Country Club and Invictus International School.
Invictus International School is a co-educational international school, based in Singapore. The educational institution offers a quality curriculum across kindergarten, primary and secondary levels.
Living In Horizon Hills
Where Nature Meets Luxury Living
For those seeking a clean and healthy environment to live in, going for Horizon Hills, the greenest township in the Johor Bahru district, is an obvious choice.
Combining the best of architectural innovation, master planning and landscape design, the green outdoors blend seamlessly with contemporary architecture, with open-plan interior layouts that complement Horizon Hills' natural, undulating terrain.
Only 40% of the 1,200 hectares of the land area is slated for development, while the remaining 60% is reserved for facilities and various green spaces. Additionally, 60,000 trees have been planted throughout Horizon Hills' neighbourhoods and roadsides, alongside waterways which cool the environment. This translates into a pristine, preserved secondary forest, which has been softscaped, allowing indigenous species to thrive.
To let residents move through the township easily, 13km of cycling lanes and 30km of jogging and walking paths thread through Horizon Hills.
Alongside these 'car-free' paths, the 200-acre golf course, wellness community facilities, nearby commercial hubs (i.e. Horizon Avenue, Gateway Commercial Centre) and upcoming Horizon Mall and Horizon Square allow Horizon Hills to be a self-contained, sustainable township.
At Horizon Hills, the pursuit of creating a Shangri-La where luxury and nature can co-exist in harmony for generations to come is evident in its design. By listening to and respecting the flora and fauna that came before, the biodiversity in Horizon Hills flourish. In turn, residents can live in a symbiotic relationship with nature, delighting in the best of both worlds.
Taking Safety Seriously At Horizon Hills
Thorough planning goes into designing the safety measures employed at Horizon Hills. The premium development is known for its stringent two-tier and three-tier security systems, with CCTV cameras lining the fencing along the property's perimeter. An around-the-clock, 24-hour dedicated guard patrol is also available, should residents require assistance.
For further peace of mind, panic buttons and video intercoms are dispersed throughout the well-lit, well-planned roads in the cul-de-sac neighbourhoods to foster a sense of security among the community.
In recognition of these safety features, Horizon Hills has been awarded and recognised as having the "Best Safety Feature Development" in the StarProperty Awards.
Other industry recognitions include:
The Edge Malaysia-PEPS Value Creation Excellence Awards in 2014, 2015, 2017, and 2018
Gold Winner for Malaysia's Best Managed & Sustainable Property Awards 2020 by EdgeProp
'Best Landed Development (Malaysia)' and 'Best Township Development (Iskandar)' at the 6th PropertyGuru Asia Property Awards (Malaysia)
Honour Award, under the 'Developer Category – Landscape Master Plan Awards' category by the Malaysia Landscape Architecture Awards (MLAA) 2022
Upcoming Launches At Horizon Hills In 2022
All Horizon Hills freehold units are eligible for Malaysians and foreigners. Upcoming launches in Horizon Hills include:
Bungalow Homes
The upcoming 24-unit launch of Bungalow Homes marks the final release of the premium living unit type. Previously, the limited exclusive two- and three-storey Bungalow Homes from the earlier launch were sold out.
Adjacent to Sireh Park, homeowners can spend evenings and weekends hiking the surrounding walking trails and parks. Front views of the greens can be seen from the Bungalow Homes' windows, and the owners of these distinguished homes will receive free membership to the Horizon Hills Golf & Country Club.
Super Link Homes
Enveloped by greenery and within walking distance of an abundance of green spaces, these new Link House units are situated in the low-density, boutique precincts of Link Homes. Choose from four types of designer homes, each with outstanding façades and each with a land area of 26'x75'.
Buying A Home At Horizon Hills, Iskandar
Despite the economic slowdown brought upon by the COVID-19 pandemic, demand for units at Horizon Hills remains resilient. The higher-than-average prices at Horizon Hills have not dampened interest either, with Horizon Hills reporting strong take-up rates.
What is more, there have been consistent take-up rates, showing that savvy buyers are willing to pay more for a premium lifestyle across the border.
Each of the many unit types is designed for and tailored to various lifestyles. Whether you intend to make a Horizon Hills property your home base for your growing family or serve as your weekend retreat, you will likely find a unit suited to your tastes.
For more information and pricing:
Phone no: +607-232 3433
Website: www.horizonhills.com.my
Facebook: Horizon Hills – One with Nature