IN certain countries, golf courses are now being integrated as part of larger real-estate projects.
Golf courses are expected to elevate the image of a community.
The homes in golf course communities are more highly valued and sold for higher prices.
So, why not invest in a luxury home with a private golf course blended in the vibrant township of an affluent neighbourhood?
It can also be the perfect greens for you to spend time relaxing while having business discussions with your friends on your weekends.
Horizon Hills, which sets a new benchmark for property development in Johor, has newly launched its bungalow homes – Mansion18, which can be your ideal homes that meet your expectations.
The development, which has received numerous accolades, is also the award winner for Best Low-Density Development by Starproperty Awards 2022 and Best Luxury Landed Development by PropertyGuru Asia Property Awards 2022 for the Mansion18.
Horizon Hills has delivered high quality homes and also premium lifestyle enclaves.
Located in the heart of the thriving Iskandar Puteri, Johor, Horizon Hills is a 486ha integrated township with a gross development value of RM7bil.
It is a low-density residential project that spreads across 11 precincts, and boasts a private 18-hole par 72 designer golf course.
Horizon Hills Golf and Country Club can be perfect for your recreational needs, with a world-class clubhouse that consists of a myriad of facilities for healthy living.
Luxury homes
Mansion18 is an exclusive 24 limited units of distinguished homes.
It is three-storey bungalow homes with a minimum gross floor area ranging from 5,800sqft to 6,800sqft.
Although its selling price is from RM4mil to RM6.5mil, Mansion18 has received overwhelming response from the buyers, and has achieved 90% take-up rate during its launching in May 2023.
You will be able to enjoy clean, fresh air and experience the tranquillity of the resort-style living in a prestigious neighbourhood.
You can enjoy a good lifestyle, as it is accessible to extended facilities and various amenities in a safe sanctuary.
You can foster close relationships with the close-knit community.
Those affluent individuals looking for a better status and exclusive homes with spectacular views and exclusive location were targeted to be owners of the luxury homes.
Background of the developer
Horizon Hills is a joint-venture development between Gamuda Land and UEM Sunrise, both bursa-listed companies and well-known, reputable local and global property developers with projects in Singapore, Australia, the United Kingdom and Vietnam.
As an established town maker, it creates places that the people will call home, and want to be part of, grow up and grow old in.
Horizon Hills has completed 280 units of bungalow homes and 100% is fully sold with overwhelming response from their targeted audience.
The mixed development has 6,000 units and to date, Horizon Hills has delivered 4,000 homes.
Among others, its D'Suites condominium – located within a three minutes' drive to Horizon Mall, Horizon Square and Invictus International School – is a good opportunity for investment as well as for one's own stay.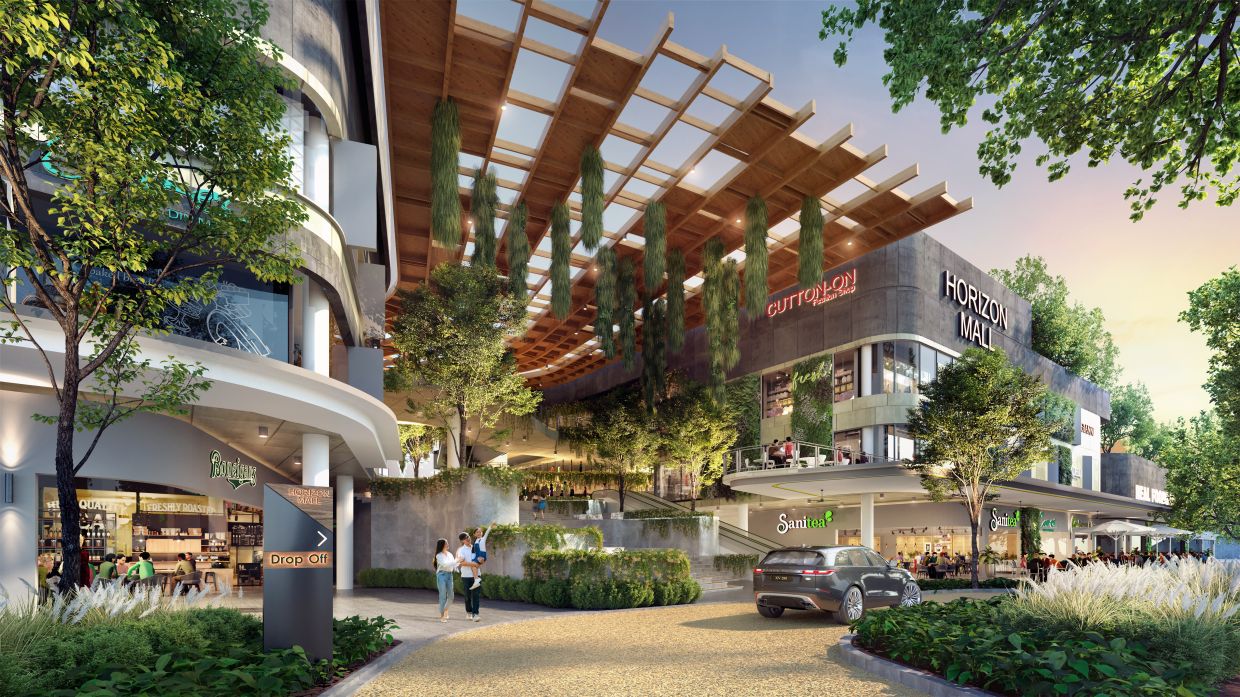 As a mature township that has created strong foundations and is steadily rising in reputation and population, Horizon Mall is expected to be Iskandar Puteri's up-and-coming bustling hub of activity, with a variety of prospects for clients and commercial vendors interested in investing in this promising market.
Set to be a biophilic themed lifestyle retail mall with outstanding architectural design, the Horizon Mall will have 150,000sq ft of shopping and dining options and a playpark.
The mall, which will have potential clients that offer alfresco dining, cafes, lounge, grocers, beauty and wellness, and education, is now open for leasing enquiries.
It will be located in the heart of Horizon Hills, giving its residents easy accessibility to a wide range of F&B and retail concepts.
Horizon Square is set to be a centre where work-live activities take place within proximity.
The upcoming launches includes Morrinsville super link homes, which offers gross floor area approximately 3,000sq ft, and it is now open for registration.
You can select from four types of designer homes, each with outstanding façades and each with a land area of 26'x75'.
Horizon Hills is fully connected and accessible via the major highways, such as the Coastal Highway, Malaysia-Tuas Second Link Highway, and Perling-Pasir Gudang Highway North-South Highway.
For more information, visit www.horizonhills.com.my or call Sales Galleria at 07-2323433.