KUALA LUMPUR: Gamuda Land, one of Malaysia's leading property developers, bagged four awards at the annual StarProperty.my Awards 2017 in a glitzy award ceremony yesterday evening.
Gamuda Land was ranked one of the Top 10 Developers of the Year while three of its key developments were bestowed the Honours award in the respective categories – the newly launched Kundang Estates in the Family Friendly category, Gamuda Gardens in the Five Elements category and Horizon Hills in the Southern Star category.
The award ceremony which took place at the Grand Hyatt Hotel Kuala Lumpur was graced by DYMM Sultan of Selangor Sultan Sharafuddin Idris Shah, who presented the All-Star Top Ranked Developers of the Year awards to the winners.
"This achievement is dedicated to our team for their tireless efforts in ensuring that we continue to deliver sustainable value to all our developments.
"This means that our communities are able to enjoy an enduring good quality of life made possible by beautifully crafted environments with smart technologies and comprehensive amenities and facilities, as well as healthy capital appreciation year after year," Gamuda Land chief operating officer Ngan Chee Meng said.
Gamuda Land was ranked one of the Top 10 Developers in Malaysia for delivering outstanding quality and innovative products as well as having achieved solid financial performance over the years.
For over two decades, Gamuda Land has steadfastly built up a proven track record of delivering value sustaining developments and building sustainable communities locally as well as internationally.
It is the only developer in the country to have won the Edge-PEPS Value Creation Excellence Award for five consecutive years.
The sustainability of its developments is grounded on its three development principles which include comprehensive master-planning, well-crafted environments that balance natural surroundings with extensive amenities and good location.
The result is evident in its Horizon Hills, Bandar Botanic and Kota Kemuning township where customers have enjoyed capital appreciation of between 21% to 47% over the years.
Gamuda Land's newly launched 89-acre boutique residential development, Kundang Estates was awarded the Family Friendly Development award.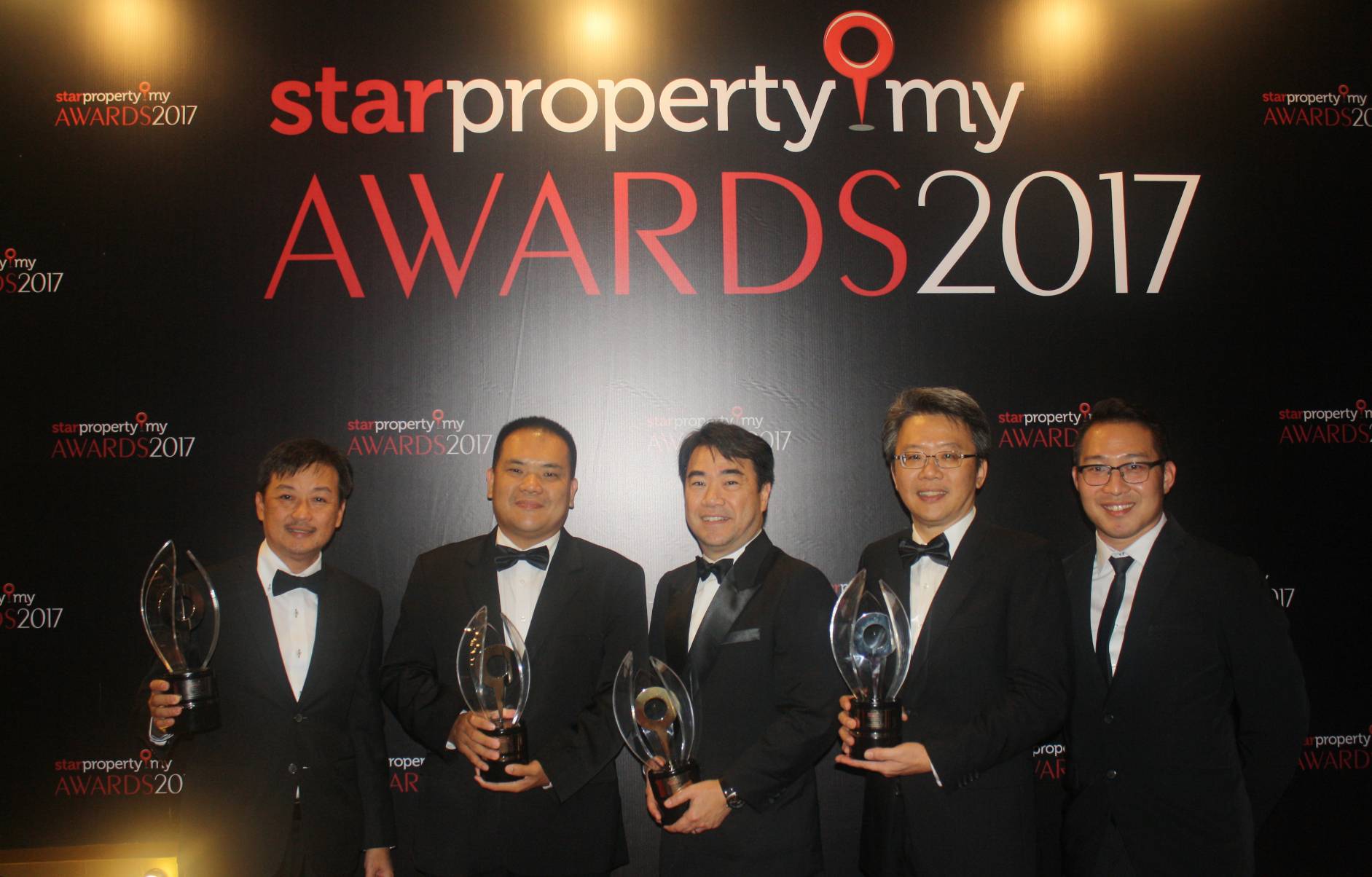 It offers modern countryside lifestyle aimed at promoting multi-generational and community living. Its key highlights include four interconnected parks for residents of all ages.
The Esplanade houses the Flying Fox, open air trampolines and beautifully-landscaped Flower Lane. Lakeside Gardens features a scenic jogging and bike trail that circles a mesmerizing lake.
Adventure Parks are suitable for thrill-seekers of all ages, where a uniquely extreme bike trail and adventure climbing web greet residents. The Community Farm with its planting beds, enables residents to get together to grow plants, herbs and vegetables for personal consumption, under the guidance of professionals. Launched in Q4 2016, Phase 1 is fully sold and new phases are now available for sale.
Strategically located at the confluence of three major highways – LATAR, North-South Expressway and Guthrie Expressways, Gamuda Gardens, an 810-acre mixed use development in North Sungai Buloh ingeniously fuses modern lifestyle and nature-rich living in one satellite town.
Positioned as the 'garden where happiness lives', it features five cascading lakes integrated into a lush 50-acre central park with a majestic waterfall and parks such the Wetlands, Adventure Playland and Lookout Points.
In the heart of the development lies the Waterfront Retail Village which overlooks the waterfall and lakes offering cafes, restaurants, retail boutiques, a marketplace and a whole host of modern amenities such as banks, clinics, salons and more.
On top of that, a city centre comprising commercial, business and retail hubs is also being planned in Gamuda Gardens to support the growing community in the future and to boost the growth of north Kuala Lumpur.
Gamuda Gardens was the recipient of the Honours award in the Five Elements category also known as Best Comprehensive Township award.
Horizon Hills competed against residential and commercial developments from Malacca and Johor for the Southern Star award.
This award recognizes excellence in planning, design as well as construction processes that meet discerning buyers' expectations.
Spread across 1,200-acre of freehold land, Horizon Hills incorporates an award-winning international championship 18-hole par 72 golf course that have hosted many golf tournaments including the prestigious Iskandar Johor Open.
With Horizon Hills, Gamuda Land has pushed the architectural and engineering boundaries to deliver an intelligently-planned township, right from the driveway to front door, to foyer, to living spaces and through to the landscaped gardens.
This development is home to an enclave of bungalows, semi-Ds, cluster homes, link homes and premium condominiums, all of which have been fashioned around the land's natural contours and are CONQUAS-rated for their outstanding quality.
The StarProperty.my Award was conceptualized to celebrate Malaysia's most inspiring property developments.
It features other submission categories such as WOW Developments, Cornerstone Developments, Niche and Unique Developments, Earth Conscious Developments and Just Walk Developments amongst others.